A Magnificent Public Golf Course in Powhatan, VA
It's often said that a bad day on the golf course is better than a good day at work. That maxim is especially true of the magnificent public golf course at Mill Quarter Plantation Golf Club in Powhatan, VA.

This splendid 18-hole golf course was designed by the well-known golf course architect Edmund Ault and provides the perfect mix of holes that will challenge the experienced golfer while affording fun to the beginner. Our public golf course is nestled in a beautiful locale where the rolling countryside defines the geography of the course itself.

Mr. Ault selected the plushest acreage from the old Randolph Plantation to create an 18-hole golf course that incorporates tall pines, quiet meadows, and peaceful rural ponds in a historic Southern vista.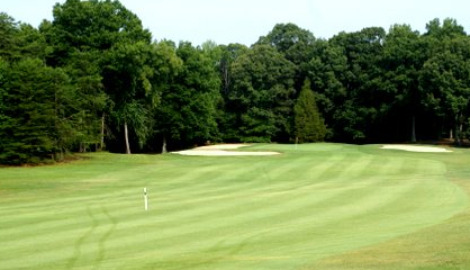 The Front Nine
Rent a golf cart and start your round from the whites with a 354-yard, par-4 off the first tee. It's a beautiful starting hole that requires you to clear a ridge to set yourself up for a good second shot. Don't go left or long though, as water and bunkers are waiting to snare any errant approach shot.

Many players report finding trouble on number 7. It's a 410-yard, par-4, which doesn't look too tough on the card, but then again, you don't play golf on the card. Most hitters need a long drive off the tee followed up with a long iron shot. But beware of the "jail" of trees left of the tee box.
The Back Nine
Following the clubhouse turn, start the back nine with the second-toughest hole on this public golf course to get your mind back in the game. Number 10 is a par-4, 417-yard slight dogleg left that will reward you if you are long off the tee.

You get a break with number 11, which is a favorite hole of members and guests alike. If you're a righty with a slice, this hole is going to play nicely for you. An elongated green provides a fun finish.

End the day by going for birdie on number 18, which is a par-4, 402-yard hole. Lay up on the left and come at the green with a shot that clears the bunkers standing guard in front.
Specifications
Blue: yards 6943, rating 73.4, slope 134
White: yards 6548, rating 71.4, slope 133
Gold: yards 6114, rating 68.8, slope 126
Red: yards 4883, rating 64.3/69.1, slope 116/120
Once you've signed your scorecard and put the clubs away for the day, you'll realize that yes, any day at a public golf course is better than a day on the job. And that's true no matter what you shot.

Contact us to learn more about our course. We proudly welcome golfers to our 18-hole golf course in Powhatan, VA.
Score Card